The next morning after I visited Six Flags Discovery Kingom (Part 1, Part 2, Part 3) me and my family headed out to the Santa Cruz Beach Boardwalk.  I wasn't expecting much as I only did a little bit of research on the park but I was really quite impressed.  Not only was the park well rounded, but the employees were terrific.  Lets take a look:
We drove up and we already had a nice view of the boardwalk.  What you are looking at is the 85 year old Giant Dipper that is the parks icon. It has been year longer then my grand parents have been alive, pretty cool to know you have ridden something so old.

As soon as you enter the park, the first ride you see is the new for 2009 Sea Swings. These must have been marketed heavily as they had one of the longest lines for any flat of the entire day. Notice that on the inside rows there is double seating, it is a new feature on some of the more recently built Wave Swingers.

We have reached the Nostalgic Ticket Booths. Really though, the park does a great job of keeping the nostalgia while keeping things updated. It provides for a great unique experience. I felt like I was walking into a vintage news paper image.

Wipeout, the most insane, crazy flat ride ever built in California. Wipeout is your typical Huss Breakdance but with a very unique twist that makes this ride very unique. It is quite difficult to comprehend, however to help everyone understand I made a little video:

Looks like fun? No?

Well after we walked off Wipeout like a bunch drunk sailors. We decided to head over to Ghostblasters since it was right next door. I was expecting a decent quality ride since it was a popular model made by Sally Corp. I wasn't expecting anything too great, but I was hoping for something on par with the new dark ride at Legoland.

Unfortunately it wasn't quite as good as Legoland's. The effects were nicely done but the lack of surrounding scenery was disappointing and the shooting system was quite hard. I was wishing for more targets and more elaborate sets. Eitherway, a good dark ride that deserves to be in so many parks.

Time for Space Race, the bumper cars of the future! These were very fun because they were easier to control then regular Bumper Cars and allowed you to hit head on as appose to the "One Way Bumper Cars."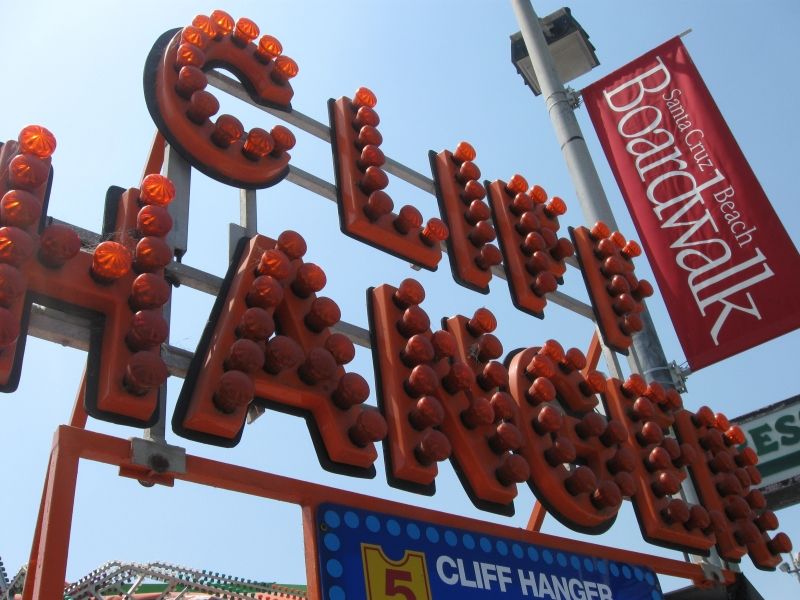 As we walked up the ramp, we noticed that Cliff Hanger was up and running so we decided to try it out. It seemed much more modern then what I was originally anticipating however it fit nicely into the park.

I found this ride okay. My body type might not be correct for this ride as the taller you are the better you fit so my chin was lagging off the chin rest and mind you I am 5′ 8″. However my 6′ 3″ brother thought it was a great, comfortable ride. I wouldn't say it is a bad ride, you just have to adjust yourself properly. All of this could be easily fixed with some padding!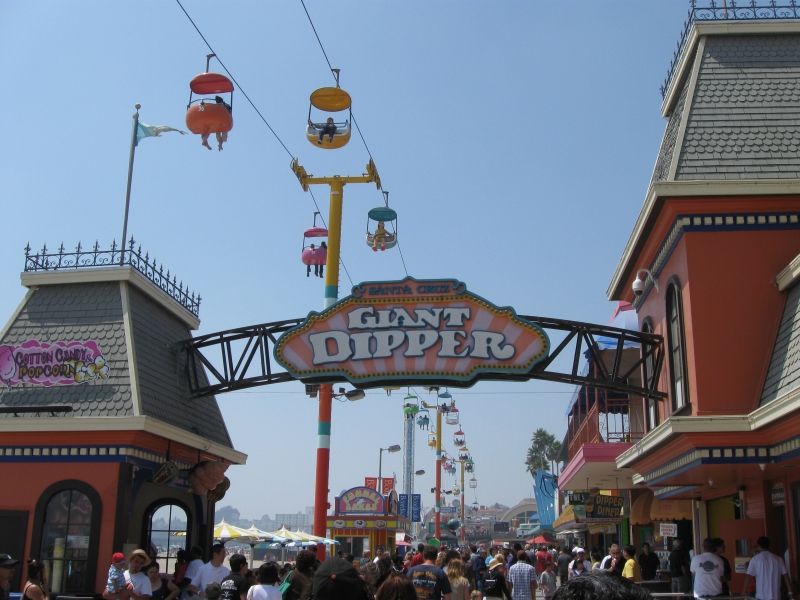 It was time to walk down the boardwalk, parelle to the coast line, and ride what the park is known for: the Giant Dipper, a fast paced, non stop wooden coaster from the hey day of Beach Side boardwalks. It is one of the last remaining coasters from this era and is the 6th oldest coaster in America.
My thoughts on this coaster is that it is simply incredible. It has aged so perfectly and is better then many wooden coasters in the world. The staff were great as they were pumping out the trains so quickly and then the next one would come flying through the station not breaking until it got to the end. Loading wasn't assigned however it wasn't a free for all either. I rode the back, twice and couldn't believe it. Really intense. Almost as intense as Ghostrider. A great coaster that I recommend to any coaster fan.

One thing this park doesn't lack is fried foods. Literally, if you can fry it, you can find it hear. Twinkies, Snickers, Apples, Cheese cake, artichokes, everything. Thankfully the only fried food I had was some fries. Sorry, but I don't want to have a heart attack when I am so young!

Next up was this worthless excuse of a coaster. Hurricane is just a poorly done coaster that is a 1 time thing. I really didn't enjoy it at all. It is rough, loud, low capacity, and overall just an underwhelming coaster. The park could have done so much more in this area. A wild mouse would have been better.

Next up we took a trip on the soon to be gone, Haunted Castle. This thing is in dier need of an update so I am glad it is getting one. You basically take a cheap version of Haunted Mansion's doom buggy through a bunch of outdated scenes. The scariest part of the ride was the ending, when you hit the door. Good bye! See you next year.

Its the Speed Bumps! These racing themed bumper cars go quite fast and had a good sound track and lighting effects like all the other indoor dark rides in the park. Wasn't nearly as good as Space Race but still a good bumper car ride. Best one I have been on atleast.

We did Giant Dipper two more times, each were both as good as our first time around. I really enjoyed the entire ride and wish to ride it again and again. Fun coaster. Better then your sub par Grizzly at California's Great America.

These are the little details that make the park special. These cute guys can be found at the parks famous Cave Train Adventure and serve as the parks mascot I suppose.

I was expecting Fireball to be just like Delirium at California's Great America. I was wrong. Fireball goes faster, spins more, goes higher and is much more intense then Delirium's best day. This was my favorite ride in the park. If only we could go upside down…

Since I read in the paper that Cave Train Adventure was one of the must-sees at the park and it was a dark ride I dragged my "macho" family on it.

It was a solid dark ride that had its own unique style and some nice elaborate sets. While not as good as Ghost Blasters it was better then Haunted Castle. I really hope that this is the next dark ride to be updated as it also needs it. I would love to see some Sally Corp style effects on the ride with animatronics, it would be so cool.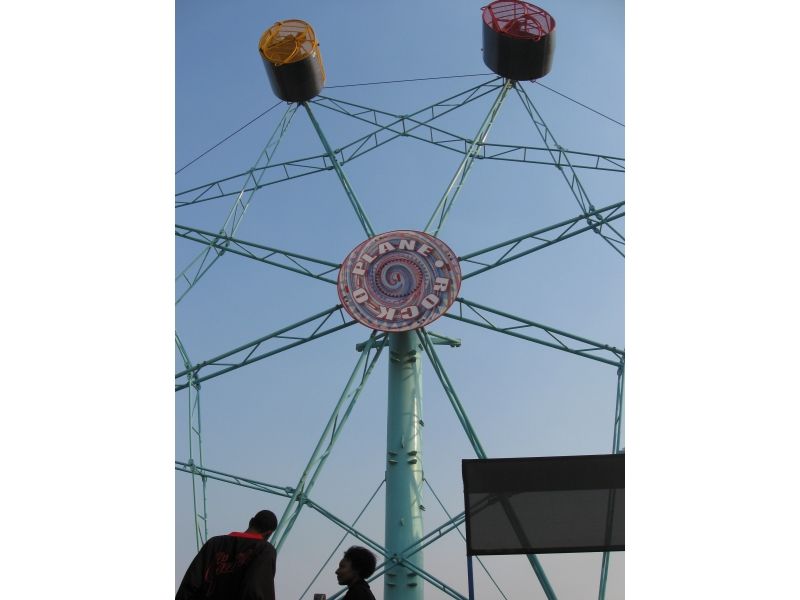 I ended the day on Rock-O-Plane. It didn't look too bad but I thought it would be fun to go upside down a few times, yeah it was much better then I could have ever imagined.

Once the entire ride started going through several cycles without stopping, I literally would lock the car so we would hang before releasing us so we would then flip 2 or 3 more times and then rinse and repeat. A very disorienting ride that was old school fun. Excellent addition to the park.

Well, the day was great. It was nice weather and the smoke wasn't too noticable from the fire in the Santa Cruz mountains however on the rise you could definitely see a haze in the air. Most of the attractions were lots of fun and I couldn't wish for much more from an amusement park like this one. I leave you with this pic of some really delicious Carmel Apples!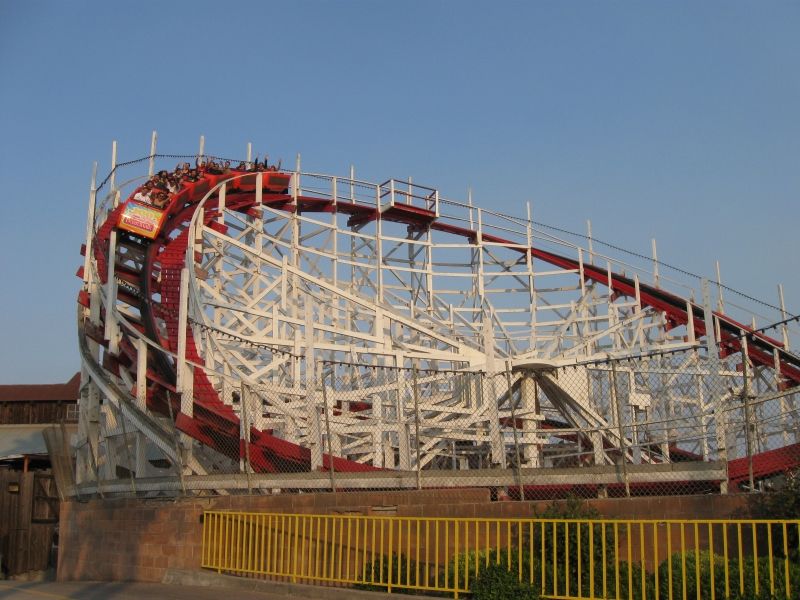 Thanks for reading! Be sure to subscribe to Park Thoughts on YouTube and leave your comments and park thoughts!