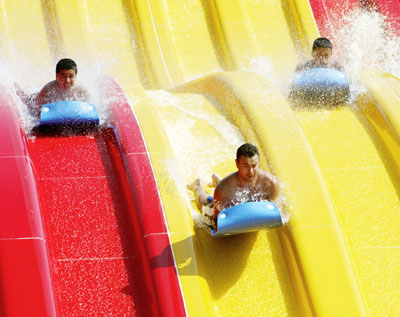 Water Parks pumped out announcements faster then they do water in the recent week.  New ProSlide Creations will be heading to two of the Great Wolf Lodge, indoor water parks.  Also, Schlitterbahn announced a new water park in Cedar Park, Texas.  Time to slide down this pipeline of news!

The Great Wolf Lodge is a chain of indoor water parks across the country.  They continue to push the envelope by opening new and creative rides each year for your enjoyment.  Two of their locations, one in Mason, Ohio (next door to King's Island) and the other in Pocono Mountains, Pennsylvania will be getting their own versions of the new ProSlide Tantrums.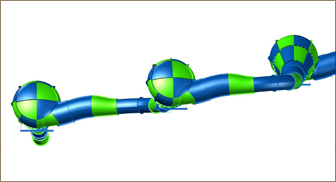 Mason, Ohio will be getting triple trouble with the Triple Twist.  Riders begin by boarding their two person rafts and dropping 5 stories.  Then they head into three (yes 3) miniature Tornado elements back to back to back.  Riders who are lucky enough to get to ride Triple Twists at night will become totally disoriented by the LED lighting effects in each of the funnels.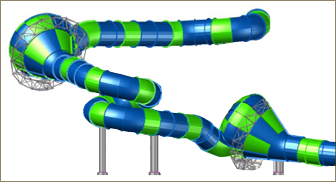 The Great Wolf Lodge in the Pocono Mountains are going to double dare you to experience the mighty Double Barrel Drop (how can you not love the names Great Wolf Lodge gives to their slides?).  Double Barrel drop will be a 6 story rafting adventure with you and 3 other friends.  It will feature two funnel elements, a number of turns in total darkness and incredible speed before hitting the splashdown pool at the end of your journey.
Both Double Barrel Drop and The Triple Twist are set to open in 2010.

The big announcement came from Schlitterbahn who announced a entirely new resort set to open in Cedar Park, Texas.  The resort will include a new, year-round Boutique Hotel, confrence center, retail outlet, and restaurants.  All are said to be ready by summer 2012.
At a cost of $75 million, the 67 acre entertainment destination will have a world class water park, a uniquely themed hotel, and so much more making it the ultimate family destination in Texas.  The water park will utilize the Transportainment system that Schlitterbahn created which allows riders to reach their destination without every leaving the comfort of the Lazy River.  While the park has not revealed which rides will be included, it is safe to assume that Schlitterbahn Cedar Park will definitely include a Master Blaster.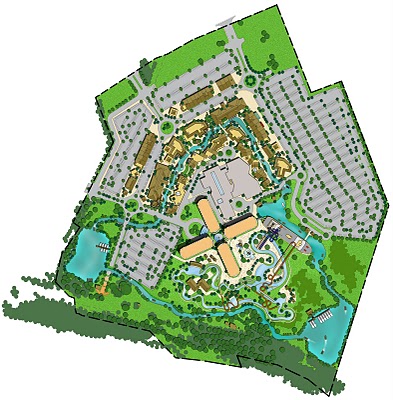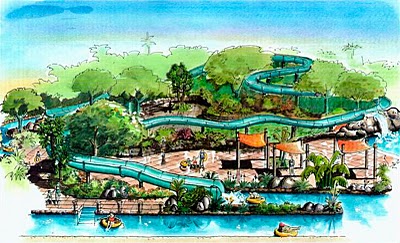 Surely, one of the most impressive elements of the resort is the hotel.  Similar to the Schlitterbahn Vacation Village Resort in Kansas City, Kansas, the hotel will be beautifully themed with wonderfully done exterior.  The designers also are making the tree houses Eco Friendly by including LED lights, low flow fixtures, and several other energy saving items.
Schlitterbahn Cedar Park is located right off of a major Texas Freeway, an excellent location for attracting visitors.  Not only will the new water park attract visitors, it will also bring thousands of jobs, a major boost for Cedar Park's economy.
Expect to see construction soon as the massive resort is set to open in just a couple of years.
So what do you think of these water park announcements?  Good or bad?  Leave a comment with a park thought below.