Abu Dhabi is a island located off of the coast of North-East Ubited Arabs Emirates. This Ferrari theme park is located all on this island, which will be planned to be a world wide tourist destination. The theme park is all indoors, under a very futuristic custom made roof. It will be the world's biggest indoor theme park when opened in 2010.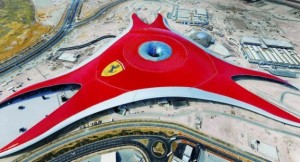 The Italian car manufacturer built the whole theme park, themed to its most famous car, the Ferrari. The park is set to have a 124mph roller coaster, along with another set of twin roller coasters. Twenty attractions are being/have been built. For the little ones or older ones alike.  This  was also part of a project with the Grand Prix race track located right off the side of the park.  All opening next year. Doesn't that really give you the Ferrari Experience?
What are your thoughts of the park, will you ever go there? Leave a comment below with your Park Thoughts.